Technicolour Rex
by Elisha Hale
Stomping and crushing through his prehistoric world, this mighty T-Rex has one goal in life, and that is to find his goal in life.Standing in his way is a shambling plethora of beasts, savage atrocities and undead monstrosities so horrifying that the mind of man could not fathom the darkened madness. Lowering his head in a solemn realization that the fate of all mankind rests on his non-existent shoulders, he charges his laser - and with a burst of beautiful blasting light, he fires it into the blasphemous horde...
... and in the end, glory and victory pulsate through his technicolor veins as the groping hands of treachery fall before his colossal, colorful might.
Visit Elisha's site:
electricmethod.net
Buy the Threadless tee!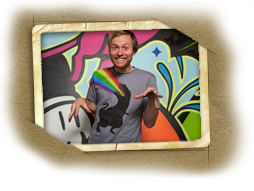 Categories: